Income level impacted countries' cardiac imaging rates post-COVID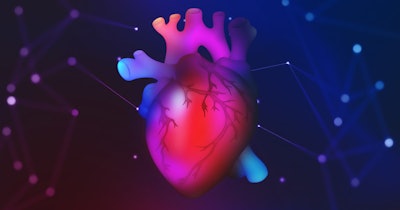 A country's income level appears to have impacted the recovery of its cardiac imaging rates after declines during the COVID-19 pandemic, researchers have found.
Rates recovered to baseline levels in the U.S. and other high-income countries in 2021, but not in lower-income countries, wrote a group led by Cole Hirschfeld, MD, of Weill Cornell Medicine and NewYork-Presbyterian Hospital in New York City. The findings were published September 21 in Radiology: Cardiothoracic Imaging.
The COVID-19 pandemic had a dramatic effect on healthcare delivery around the world, and decreases in healthcare services use occurred across almost every medical specialty, the authors noted. In particular, cardiothoracic imaging procedure volumes decreased by 64% in April 2020 compared to rates in March of 2019, prompting "concerns over the potential consequences of decreased cardiovascular testing on long-term cardiovascular disease morbidity and mortality rates," the group explained.
In their study, Hirschfeld's team used data from the IAEA Noninvasive Cardiology Protocols Study of COVID-19 2 (INCAPS COVID 2), which collected information from 669 facilities in 107 countries, including 93 in 34 U.S. states, to assess the impact of the COVID-19 pandemic on diagnostic cardiovascular procedure volumes. INCAPS COVID 2 participants reported volumes for each diagnostic imaging modality used at their facility for March 2019 (baseline), April 2020, and April 2021; U.S. facilities declared procedure volumes totaling 262,691, and non-U.S. centers declared volumes totaling 930,235.
The following tests were considered:
Coronary artery calcium CT
Coronary CT angiography (CCTA)
Invasive coronary angiography
Nonstress cardiac MRI
PET cardiac infection studies
Stress cardiac MRI
Stress electrocardiography
Stress PET
Stress SPECT
Transesophageal echocardiography
Transthoracic echocardiography
The researchers found that reductions in procedure volumes in April 2020 compared with baseline were comparable for U.S. and non-U.S., high-income facilities, and that, overall, U.S. facilities showed more return to baseline cardiac procedure volumes in April 2021 than did non-U.S. facilities. There was no indication of a difference in cardiac procedure volume return when U.S. facilities were compared to non-U.S. high-income country facilities.
Median reduction and return to baseline of cardiothoracic procedure volumes by country income level
Country income level
Median reduction, April 2020
Return to baseline, April 2021
U.S.
-66%
4%
Non-U.S. high-income country
-62%
0%
Upper-middle-income countries
-79%
-13%
Lower-middle-income countries
-86%
-41%
Low-income countries
-70%
-50%
Access to telemedicine may have played a key role in postpandemic recovery of cardiothoracic imaging rates, said senior study author Andrew Einstein, MD, PhD, of Columbia University Irving Medical Center in New York City, in a statement released by the journal.
"Though further studies are needed to gauge the long-term impact of increased telehealth use on patient outcomes, studies have already shown that telehealth is associated with increased patient satisfaction, improved patient retention, and improved access to care for a wide range of patient populations and communities," he said.
The complete study can be found here.